Gain Your Experience Today
Autism Society of the RMWB offers a friendly, family orientated, and educational employment opportunities. We strive to provide the skills and knowledge for you to succeed in your position and for you to gain work experience for your future endeavors.
We are looking for Social-Respite Support Workers to join our team!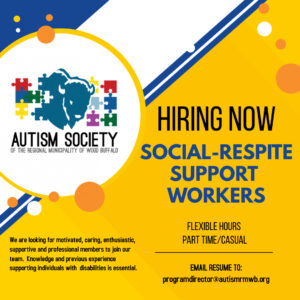 Working under the guidance of the Program Leader, Social-Respite Support Workers will provide direct support to neurodiverse children and youth as they participate in recreational activities.
Relevant certificates in childcare, youth worker, disability support workers an advantage.
Experience supporting individuals with special needs is ESSENTIAL.
Must be able to provide clear RCMP/Vulnerable Sector check, Children & Family Services Intervention Record Check, hold current First aid (+CPR), have valid driving license, adequate vehicle insurance (business use) and access to a reliable vehicle for transporting children and youth.
Job Types: Part-time, Casual
Salary: $18.00-$22.00 per hour
Benefits:
Schedule:
Day shift
Evenings
Monday to Friday
Weekend availability
Application question(s):
Are you available to work weekends?
Experience:
special needs: 2 years (required)
License/Certification:
driving license? And vehicle for work use? (required)
Work Location: One location
For any questions, please contact 780-531-5777 or email programdirector@autismrmwb.org